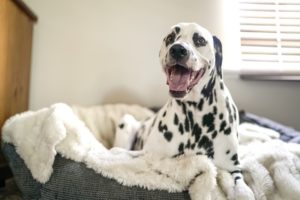 Any kind of operation can be stressful for your companion, but knee surgery for dogs is often particularly difficult. Many canines are active, effervescent companions who routinely use their joints to jump on furniture, navigate stairs, and bounce along happily beside their guardians. Restricting mobility, keeping incisions clean, and administering post-operative medications are all vital aspects of a smooth recovery, and pain management is crucial to keep your companion as comfortable as possible after knee surgery for dogs.
Knee Surgery for Dogs is Tough for Canines (and Their Guardians)
Surgery isn't easy for you or your fur-baby. Your companion will likely experience some discomfort, and experiencing physical limitations and symptoms without understanding why can be stressful for them. They may not understand why they're not allowed to jump on the couch with you, and medications and rehab can be scary for them. Likewise, many guardians find it difficult to watch their fur-babies struggle through the recovery process. Still, it's vital for guardians to remember that following all post-operative instructions (particularly regarding medication and pain management) can help ease the path to recovery and give their companions the best possible outcome.
Follow All Medication and Activity Guidelines After Knee Surgery for Dogs
Your veterinary surgeon will provide you with ample instructions regarding pain management, wound care, and physical activity after knee surgery for dogs. Follow these instructions to the letter and update your veterinary care team with any notable developments or questions. You will likely need to restrict your companion's physical activity and administer pain medication, anti-inflammatory drugs, and/or antibiotics. Giving your fur-baby their medication as directed is essential in minimizing pain and discomfort. If you notice whining, flattened ears, aggression, or other signs of pain or distress, notify your veterinary care team immediately.
Communication is Vital After Knee Surgery for Dogs
It's essential to keep a watchful eye on your canine as they recover. Infections, breakthrough pain, and reinjury can throw a wrench in your companion's recovery, so make sure to look for signs of infection or discomfort. Discuss any questions you may have before or after surgery with your veterinary care team, and don't be afraid to ask for clarification or advice. Remember, your canine companion can't ask for help. It's up to you to make sure that they are getting the treatment they need.
Trust Maryland Veterinary Surgical Services With Your Companion's Health
Your companion's health is important, and the team at MVSS is ready to provide the best care possible for your furry family. We are dedicated to combining comprehensive exams and assessments with informative and honest discussions of your companion's care. Once we have worked with you to decide on the best course of action for your dog, our professionals will use their surgical expertise to work towards the goal of giving your companion an active and pain-free life. We are proud to serve loyal companions in Catonsville and Baltimore. To learn more about our services, give us a call at 410-788-4088 or visit us online. For more information and tips for pet health, follow us on Facebook and Pinterest.