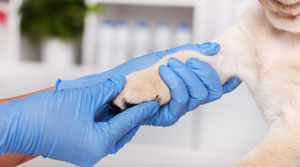 Dogs have complex anatomies, just like humans. Every joint, organ, and system in the body has a unique function and set of potential illnesses and problems. In this blog, we will explore the knee. Your dog's knee joints contain multiple discrete parts that work to give them a full range of motion while absorbing the impacts of walking, running, and jumping. One particularly important part of the knee is the meniscus, which is responsible for cushioning the knee joint. If knee surgery for dogs is on your agenda, read this blog on the meniscus and contact the professionals at Maryland Veterinary Surgical Services.
Where are the Menisci? What Do They Do?
Your companion's knee (or stifle) joint contains not one, but two menisci. These menisci are made of cartilage and serve to manage force and friction within the knee joint. Each C-shaped structure sits on top of the tibia and cushions the femur and tibia, preventing them from grinding against each other. Injuries to the meniscus can be associated with cranial cruciate ligament ruptures, and they often require knee surgery for dogs to be treated fully.
Why Your Companion May Need Knee Surgery for Dogs
If your canine companion has sustained a CCL rupture, they may have also damaged one or both of the menisci in the joint. Without knee surgery for dogs as a surgical remedy, they may experience lameness, audible joint clicking, and pain. CCL injuries create instability in the joint, and knee surgery for dogs aims to restabilize the area. Your companion may also sustain an isolated injury to their meniscus without CCL rupture, often due to falls or trauma resulting in twisted limbs.
Common Types of Knee Surgery for Dogs
Depending on the nature of your companion's injury, your veterinary surgeon may recommend one of many options. Total or partial meniscectomy involves removing all or part of the meniscus. In some cases, partial meniscectomy or a primary repair can be performed in conjunction with TPLO procedures or other joint stabilization measures. If your companion has sustained a meniscal injury or shows signs of knee pain, consult your veterinary care team to discuss potential diagnoses and treatment options.
Trust Maryland Veterinary Surgical Services With Your Companion's Health
Your companion's health is important, and the team at MVSS is ready to provide the best care possible for your furry family. We are dedicated to combining comprehensive exams and assessments with informative and honest discussions of your companion's care. Once we have worked with you to decide on the best course of action for your dog, our professionals will use their surgical expertise to work towards the goal of giving your companion an active and pain-free life. We are proud to serve loyal companions in Catonsville and Baltimore. To learn more about our services, give us a call at 410-788-4088 or visit us online. For more information and tips for pet health, follow us on Facebook and Pinterest.