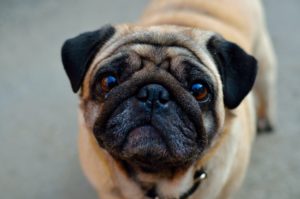 As parents of fur-babies, many of us think of our companions as perfect. Sure, Fido might shed and have selective hearing sometimes, but you likely wouldn't want him any other way. Still, some canines have physical attributes that make them prone to medical conditions that require veterinary intervention. This is particularly true for brachycephalic breeds of dogs (e.g., bulldogs, boxers, and pugs). If your short-snouted buddy breathes loudly or seems to struggle with breathing and exercise, your veterinary care team may recommend veterinary surgery as a solution.
Veterinary Surgery for Stenotic Nares and Related Issues
Brachycephalic breeds can be prone to a few different conditions that hinder breathing: elongated soft palates, stenotic nares, and everted laryngeal saccules. Collectively, these are known as "brachycephalic syndrome." Stenotic nares refer to narrow nostrils that these dogs can sometimes have, and an elongated soft palate and everted laryngeal saccules are structures that can obstruct the airway. Fortunately, veterinary surgery can help correct these issues. In the case of stenotic nares, veterinary surgeons can widen the nostrils to allow for greater airflow. Everted saccules can be removed and an elongated soft palate can be shortened to provide further relief.
When is the Best Time for Veterinary Surgery?
Your companion's veterinary care team will make their own recommendation regarding the ideal operations and timeline for treatment. Their guidelines will likely depend on your companion's age and the severity of their symptoms. Some veterinarians prefer to correct stenotic nares at a young age (sometimes at the same time as a spay or neuter procedure) in an attempt to prevent labored breathing and everted laryngeal saccules altogether.
Promoting Healing After Veterinary Surgery to Correct Stenotic Nares
As with any other veterinary surgery, guardians must follow their post-surgical instructions to the letter. Your veterinary surgeon will likely recommend using an e-collar during recovery to prevent your companion from scratching or pulling at their sutures. Administer all postoperative medications as directed. This will likely include pain medication, anti-inflammatory drugs, and antibiotics. Taking your beloved bulldog or precious pug in to go under the knife can be scary, but correcting problems associated with brachycephalic syndrome can significantly improve your companion's quality of life.
Trust Maryland Veterinary Surgical Services With Your Companion's Health
Your companion's health is important, and the team at MVSS is ready to provide the best care possible for your furry family. We are dedicated to combining comprehensive exams and assessments with informative and honest discussions of your companion's care. Once we have worked with you to decide on the best course of action for your dog, our professionals will use their surgical expertise to work towards the goal of giving your companion an active and pain-free life. We are proud to serve loyal companions in Catonsville and Baltimore. To learn more about our services, give us a call at 410-788-4088 or visit us online. For more information and tips for pet health, follow us on Facebook and Pinterest.